Manufacturing Process that Set Us Apart
We can provide products that conform to most market specifications, including a wide range of catalog items. Our quality assurance program further complements our ability to deliver products on time with exceptional PPM performance.
Machines and Equipment
Our facility is equipped with computerized and automated workstations, which allows us to guarantee our customers the highest quality in custom magnetic products.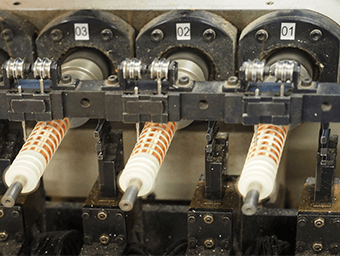 Automated winding machines
We have a variety of multi-spindle CNC winding machines, which are suitable for the manufacture of several different styles of coils. The machines allow excellent control of the winding processes, including termination, as well as being efficient.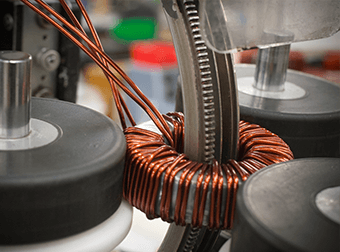 Toroidal coil winding machines
There is a dedicated area for the manufacture of toroidal coils. The methods of manufacture vary from CNC-controlled automated machines to hand winding via an assisted hand-winding method, known as "pull winding."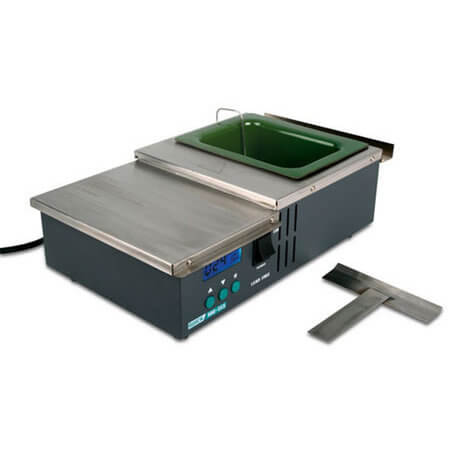 Lead-free Soldering Equipment
Numerous lead-free solder pots in a dedicated room have a specific extraction facility.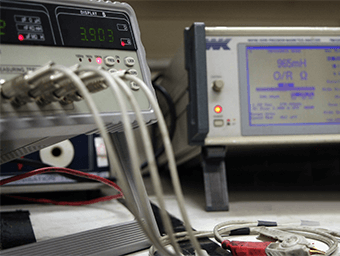 Testing Equipment
Automatic test equipment is used to confirm product conformance in addition to being able to test for all the recognized industry standards parameters.
State of the Art Winding
Precision winding enabling 100% standard and requirements conformity
Benchtop winding machines for high-precision linear winding applications
CNC-controlled traverse for precise control of tension for guaranteed repeatability
Pitch accuracy of 0.00004"
Electronically stored winding programs
Perfect-layer coils, self-supported coils and edge-wound coils
Encapsulation (Varnish, Casting & Molding) Processes
Satisfying demanding environmental and electrical requirements
Vacuum & pressure impregnation for HV applications

Chambers up to 243 inches
Levels to 100 mTorr
Fully automated chambers with controls to ensure precision
Unlimited applications, including flyback transformers, step-gap transformers and inductor

A diverse variety of sealants, including Anti-fungal & non-nutrient materials
Custom molds or cups
Silicones and one or two-part epoxies
Automated Production Testing Equipment
State-of-the-art transformer testers provide a fast, reliable and flexible test solution.
Continuity
Magnetic/Exciting Current
Winding Inductance
Leakage Inductance
Winding Resistance
Open Circuit Voltage
Loaded Circuit Voltage
Turns Ratio
Dielectric Testing (HiPot/High Potential Difference)
Quality Factor
Interwinding Capacitance
Insulation Resistance
Skills & Departments
Our technical staff of engineers can provide you with fast prototyping and product development services for all your magnetic and voltage control needs.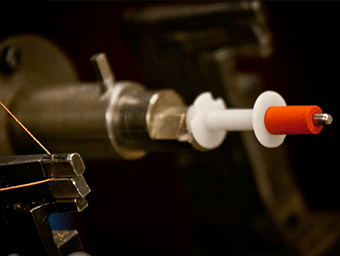 Experienced/skilled workforce
We have an experienced workforce with the manual skills to carry out the hand-winding of intricate coils. This allows the supply of unusual and complicated products unsuitable for machine manufacture.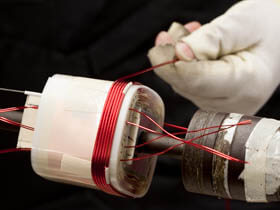 Multiple Winding Styles
We wound using many different styles including, Bobbin Winding, Toroid Winding, Stick Winding, Unit Winding and Heavy Winding including rectangular wire and Foil to 22."
Design and Development department
This area supports the customer in product design, prototype manufacture and production engineering. We offer technical and practical support, as well as being able to supply customers with a rapid sampling service.
We aim to use our experience and skill to combine excellent engineering integrity with commercial considerations. This is to provide a product that suits the manufacturer and meets the application's requirements. Using our extensive winding experience, we ensure the coils are constructed correctly. This means good layering, controlled tension and solid connections.
Product Application
At Shreejee Electronics, our high-performance magnetic components set new standards in various industrial and commercial applications.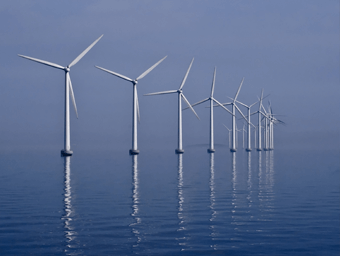 Power Management
We manufacture many products that multinational companies use in their power management systems. These systems include converting generated power, controlling outputs and providing supply voltage protection to Ferrite Transformers, Inductors & Chokes.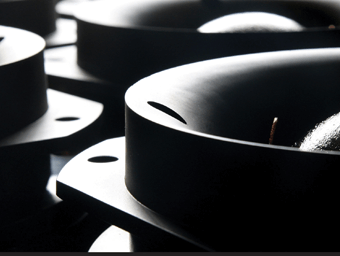 Sensing Coils
Coils are manufactured to be used in many sensing applications. These applications include sensing movement, object presence and magnetic switching. We also manufacture current sensing coils known as "Rogowski Coils."
Transformers That Perform
State-of-the-art materials, expert design capability and 100% in-house world-class manufacturing